Framing Services
Residential Construction Framing Specialists
New Construction Single Family
New Construction Multi-Family
Additions
Remodels
Framing Labor
Window and Exterior Door Installation
Housewrap Installation
Better Built Homes, Inc. has the experience, knowledge, manpower, and equipment to get a framing project done correctly and on time. Our framing crews are experienced and efficient on new construction, additions, and remodels. We have framed every type of residential building from small garages to multi-million dollar estates and everything in between. We excel at meeting agreed upon start and completion dates, regardless of weather or other obstacles. We realize time is money for you so we strive to make our schedule meet yours. Every single project we do is personally inspected by one of our two Owners to ensure that the workmanship and quality exceed your expectations. With Better Built Homes, Inc. providing framing labor you can expect: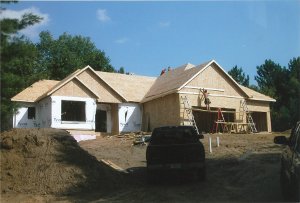 Framing crews experienced in both stick frame and panelized wall systems.
Efficient use of materials.
Every project is personally inspected by one of our two Owners.
Quick and efficient completion of the job.
Easy scheduling.
Fasteners, cranes, and forklifts provided by us.
Quality craftsmanship.
Properly sized crews to get the job done on time.
Proper tools and equipment to get the job done efficiently.
Hard working and professional employees.
Each of our crews is led by experienced and highly skilled Team Leaders.
Every member of our team is a direct employee. You will not find Temp. Agency Workers, or Subs, or Illegals working with us.